Yangon, a former capital till Naypyidaw (quite close to Pyinmana that is 303 km north of Yangon) has been designated as the administrative capital in November 2005.Yangon is the biggest city and the commercial center, a gateway into Myanmar with international airport and seaport.

Twante, Bago and Kyaikhtiyo are within day tripping distance. Pyay leads to the former capital of ancient Pyu.
Popular beaches within four hours drive from Yangon: Chaung Thar beach and Ngwe Saung beach in Ayeyarwady division.

Main attraction: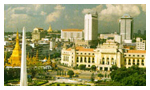 Yangon: Shwe Dagon, the most famous pagoda in Myanmar. Bogyoke market (formerly known as Scott Market) with hundreds of shops; colonial buildings such as Port Commissioner; Old Secretariat; and High Court etc; photo stop at Sule Pagoda & the Town hall; Chauk Htatkyi (a colossal reclining Buddha); Kalewa Monastery (more than 1,000 monks and novice monks live and study) and the Chinatown fruit market.
Twante: On the other side of Yangon river (24 km from Yangon); famous for the pottery work. Observe the life of a typical delta village.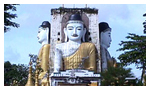 Bago: An ancient city of the 15th century Mon Kingdom, Bago is one of the richest archaeological sites in Myanmar. It is 80 km from Yangon and is 1.5 hr drive from Yangon.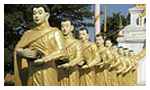 Pyay: is 285 km north-west of Yangon (5 hours drive). Archaeological sites of the ruins of the ancient Pyu capital (5th to 9th century) Thayay Khittra (or Sri Keshtra).about 8 km to the east, is the place of interest. Akauk Taung stands on the bank of the Ayeyarwady River to the north of Pyay in Bago Division. Different sizes and styles of Buddha images are carved into the wall of the bank.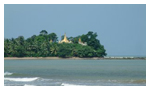 Chaung Thar: Developed in the early 1990s and the beached stretches about 2.2 km. At low tide, the beach has a touch of 'muddy delta look'. But overall at medium and high tide it's attractive enough with fine beige sand, backed by coconut palm and casuarinas trees. Offshore lies a modest coral reef with decent snorkeling except during the rainy season when the clarity of water is poor. The White sand island accessible by boat is a nice place to swim around and snorkel.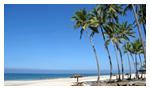 Ngwe Saung: Developed since 2000 and the beach stretches 11 km along the blue water and pristine sand. The lovers' island, accessible by foot during the low tide is perfect for the snorkeling, fishing and diving. It's like an aquarium as there are multi colored fishes inside the coral reef.