Ngapali: Ngapali beach is located close to Thandwe which is almost one hour flight from Yangon.
Sittwe: Forty five minutes flight from Ngapali (Thandwe) to Sittwe. And then four hours boat ride (45 miles) to Mrauk U and Wethali (or Vesali), the ancient cities of Rakkhine.
Main attraction: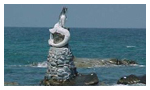 Ngapali: The prettiest beach in Myanmar. It is a 4.8 km of pristine sand beach and emerald green water. The fishermen's village, Lonethar, to observe how the fishermen set and drift their net and the local way of life.


Sittwe: One hour and twenty minutes flight from Yangon. Literally, Sittwe means "the place where the war meets". It's the place where King Bodaw's army and Rakkhine army met and Rakkhine army was defeated. Point (a place (with a light house) at the end of the Strand road which looks into the Bay of Bengal); Shwe Zedi monastery (where Sayardaw U Ottama, the first monk to protest against the colonial English, resided); and Ahkyaikdaw pagoda.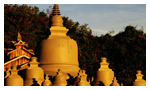 Mrauk U: Four to Five hours boat ride from Sittwe. Anicent city of Rakkhine (since 15th century) till 1784 when Kin Bodaw occupied it. Among the places of interest are: Koe Thaung Phaya, the largest pagoda in Mrauk Oo, built with the sand stones and the bricks, and Shit Thaung Phaya built with 1.8 meter thick solid sandstones using the stone brackets and without using the mortar. Layout is like a maze. Chin villages to observe the way of life and the tattooed Chin ladies.
Wethali (or Vesali): Dating from 327 AD to 1018 AD, Wethali is pre-Bagan and contemporaries with Pyu cities like Beit Thano and Han Lin in central Myamar. It lies 8 km north of Mrauk U. Old brick walls of the city can still be traced. Museum at Mrauk U displays the findings from the excavation.