Mandalay was the capital of Myanmar till 1885 when the British occupied what was left under King Thibaw, the last King of Myanmar. It is still the center of culture and religion. Mandalay lies 716 km (one and a half hour flight from Yangon) north of Yangon.
Mingun lies 11 km up the Ayeyarwady river from Mandalay and is accessible by boat.
Old capitals of Myanmar within easy day tripping distance are: Sagaing (capital of Myanmar from 1315 AD to 1364 AD) that is 21 km south west of Mandalay; Innwa (capital of Myanmar from 1364 AD to 1764 AD (except for the brief interludes) that is 20 km south west of Mandalay; and Amarapura (capital of Myanmar from 1841 AD to 1860 AD) that is 11 km south of Mandalay.
Pyin Oo Lwin (67 km east of Mandalay and 1.5 hours drive), a hill station 1,070 meters above the sea level with cool pleasant weather.
Monywa that is 84 miles northwest of Mandalay (3 hours drive) that could be reached via Sagaing.
Main attraction: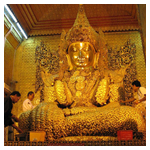 Mandalay: Mandalay hill (view sunset from the top); Peshawa Relics (three bones of Gautama Buddha) enshrined in Ingyin Taw pagoda at the base of the Mandalay hill; Mandalay palace walls and moat; the replica of the former palace; Kuthodaw pagoda – 729 stone slabs with Buddhist scriptures - known as the largest book; the famous Mahamuni pagoda in which the bronze – but gradually coated with thick layers of gold leaf - Buddha statue was taken from Rakhhine in 1784; traditional marble sculpture workshops; and traditional gold leaf workshops.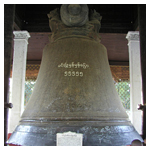 Mingun: That place is famous for the largest uncracked hung Mingun bell (90 ton) in the world; and also for the biggest unfinished pagoda Pahtotawgyi in the world.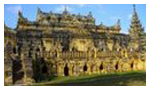 Innwa: Nanmyint watch tower (known as the leaning tower of Innwa), Maha Aungmye Bonzan brick and stucco monastery and the Bagaya Kyaung, the monastery entirely made of teakwood and noted for its 267 teak posts that support the whole monastery.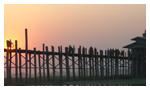 Amarapura: Maha Gandayon monastery and seminary, with thousands of monks. The world's longest (1.2 km) teak foot bridge (U Bein bridge); and traditional silk cloth weaving handlooms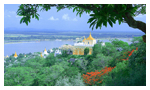 Sagaing: Panoramic view of the Ayeyarwady river and Mandalay from top of the Sagaing hills that is dotted with numerous pagodas; Kaung Hmu Daw pagoda that takes after the Sinhalese architecture; and the silversmiths.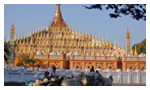 Monywa: Kyaukkar village which is famous for the lacquer ware different from Bagan style; and Mohnyin Than Buddhay Pagoda where more than 500,000 Buddha images are seated. Other places of interest are the Hpo Win hill and Shweba hill (a religious site with unique pavilions and images cut from sand stone).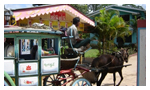 Pyin Oo Lwin: Purcell tower, a gift from Queen Victoria (UK); 237 acres Botanical garden developed by the Turkish P.O.W during World War One.
Before arriving Kyaukme: Gokteik steel bridge, over a 300 meter deep gorge which is more than a hundred years old and the second highest railway bridge in the world.